Frida Kahlo Style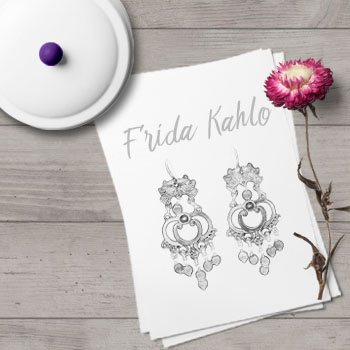 We call this category "the Frida Kahlo" style because, I think she is the worldwide Mexican famous artist that best represents this kind of jewelry.
This style was very well known since the 1930's 40's and 50's on the silver screen, where the most beautiful Mexican actresses were wearing this kind of jewelry.
But it has always been identify with a very specific, ethnic indigenous group and a very classic look from Mexico.
Frida Kahlo, was famous for her unique and ethnic style that was a very distinct characteristic of her persona. It was said that she could be seen on the streets of NY, wearing exotic, colorful clothes and jewelry, imagine this exceptional woman walking on this metropolitan city, wearing a classic Mexican, indigenous attire.
In some pictures found in the internet showing her face, you will be able to see some similar earrings that show this style.

After Frida Kahlo, you could find this beautiful kind of work, in very specific communities and only people interested on a pre-Columbian ethnic motifs will search for these kind of jewelry. The use of filigrane and metals, like gold and sterling silver were often used to craft these wonderful pieces of jewelry. This style went away for quite a bit, giving place to more modern and design pieces. But now, after all these years, this look has come back stronger than ever! It's a timeless handmade metal work that will take your breath away for its unique and incomparable craftmanship.

Here in Mexico sterling, you will find beautiful Taxco silver earrings with Frida's style, great variety of natural stones and excellent workmanship guarantee. And the best of all, great prices. Please compare our prices in the internet, you won't find anything better!
---